Toyota Rav 4 review - Dealership Saskatoon
Toyota Rav 4 review - Dealership Saskatoon
Posted on June 17, 2020
Our Dealership in Saaskatoon offer you our Opinion about the new Toyota RAV 4
Everything changes for the fifth generation Toyota RAV4! New platform, a totally new look and atypical technical choices already have the merit of originality in the segment. At our dealership, the RAV4 2020 is only available as a hybrid.
It may have become quite discreet over the generations, even insipid to the eye, but the Toyota RAV4 is nonetheless one of the pioneers of recreational SUVs (along with the Honda CR-V)... and one of the best-selling SUVs in the world, since its debut in 1994. In any case, the RAV4, the fifth of the name, revives what made the success of the very first version, the one that was nicknamed "fun cruiser" at the time: its look. Not sure that everyone will like his angular silhouette, but he won't be blamed for a lack of charisma anymore... At least it stands out in the all-UV landscape that has become the norm!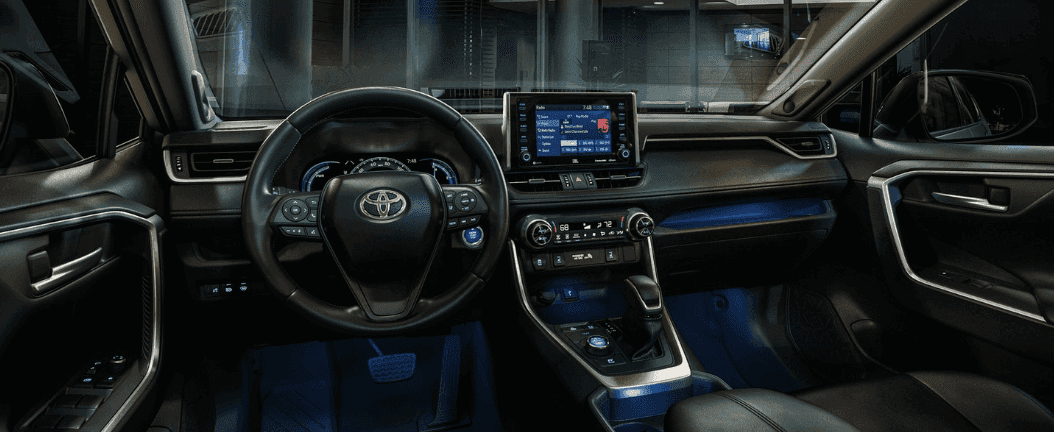 Just a litle bit more imposing
Strangely, he looks much more imposing than his predecessor. However, the dimensions have changed very little (it is even slightly shorter, by a small centimetre): the ground clearance has also been raised and the roof line slightly lowered (1 cm). With the bonnet now almost horizontal, the RAV4 has almost become brutal! The atmosphere is in the same register when you sit behind the wheel: the furniture is straight and solid, just like the big rubber air conditioning controls. The finishing has progressed in the right direction, by the way.
The same is true for the technical content... on the page, although the media interface and the central screen sometimes lack legibility, at the level of the various menus. And if the very original central rear-view mirror with an LCD screen (a rear camera takes care of the rear-view mirror) offers a nice gadget scent worthy of a concept car, the usefulness is relative: distances are less easily appreciated, reflections are too present depending on the orientation... Fortunately, the pull tab allows you to deactivate this function to return to a classic mirror.
Toyota RAV 4 for sale in our Dealership in Saskatoon