How to Pre-Order
**DUE TO EXTREME SUPPLY CHAIN SHORTAGES CAUSED BY COVID-19, VEHICLE INVENTORY LEVELS ARE AT AN ALL TIME LOW. PRE-ORDER & RESERVE YOUR NEXT VEHICLE TO GET EXACTLY WHAT YOU'RE AFTER AS SOON AS POSSIBLE**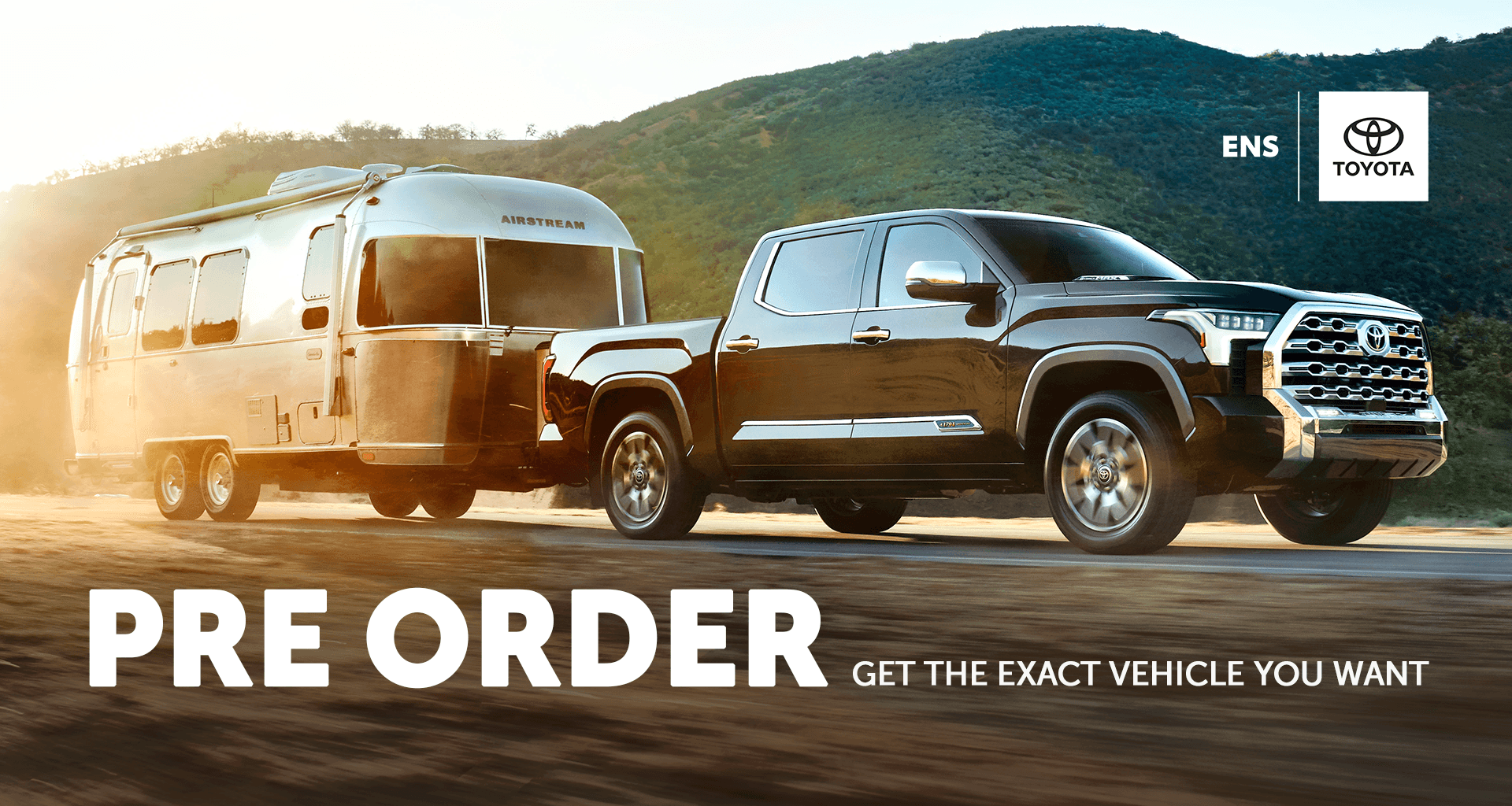 How to Pre-Order Your New Vehicle with Ens Toyota
Choose the EXACT vehicle you want!
How to pre-order a vehicle with Ens Toyota:
1. Shop online at EnsToyota.ca or contact an Ens Toyota Product Advisor

Our sales team can help narrow down the perfect vehicle for your needs & lifestyle

2. Schedule a test-drive

We may not have YOUR vehicle in stock, but we likely have something similar to experience behind the wheel! If you want to try out multiple options, that's fine too!

3. Narrow down your vehicle model, package & color choice

Our sales advisor team will look to see if we have one on the way, or if it will be a factory order! At this point our team can provide an estimated arrival time based on the options available!

4. Finalize your finance or lease paperwork!

This is when we can determine the exact payment (lease or finance) or the cash purchase price of your vehicle. It is the perfect stage to customize your vehicle, adding all the accessories you'd like and having
them ready to be installed before your vehicle even arrives!

5. Leave a deposit!

Your product advisor will place your order the moment a deal is made & deposit is taken. Your Product Advisor will also provide updates on your vehicle arrival, so you know exactly when your new ride will be ready
for delivery! Whether it is an incoming inventory item or a factory order, we will let you know exactly where it's at!
Your deposit is entirely refundable, should something change in the meantime.

6. Schedule your delivery

Once your vehicle arrives, your Product Advisor & an Ens Toyota Delivery Coordinator will reach out to arrange the best time for you to complete your paperwork & take delivery on your brand-new Toyota!
If you would like to learn more about how to pre-order a vehicle or if you have additional questions, please fill out the form below or speak to an Ens Toyota Product Advisor.
WHY PRE ORDER?

* Get the EXACT model, package & color that you want
* Take time to customize your vehicle with the right accessories from our Accessory Department